MPs of the opposition coalition protested during Tuesday's parliament sitting, calling for the release of jailed former President Abdulla Yameen Abdul Gayoom.
Lawmakers representing the Progressive Party of Maldives (PPM) and People's National Congress (PNC) disrupted the sitting after recess at around 11:00 am, calling for the immediate release of former President Yameen. They also called for the release of "political prisoners".
As the MPs demonstrated in front of the administrative desk at the front of the parliament while holding posters picturing the former president, the Speaker of the parliament allowed the protesting MPs to participate in the debate.
Likewise, the speaker requested the rest of the lawmakers to ignore the protesting MP's and carry on with the parliament's agenda.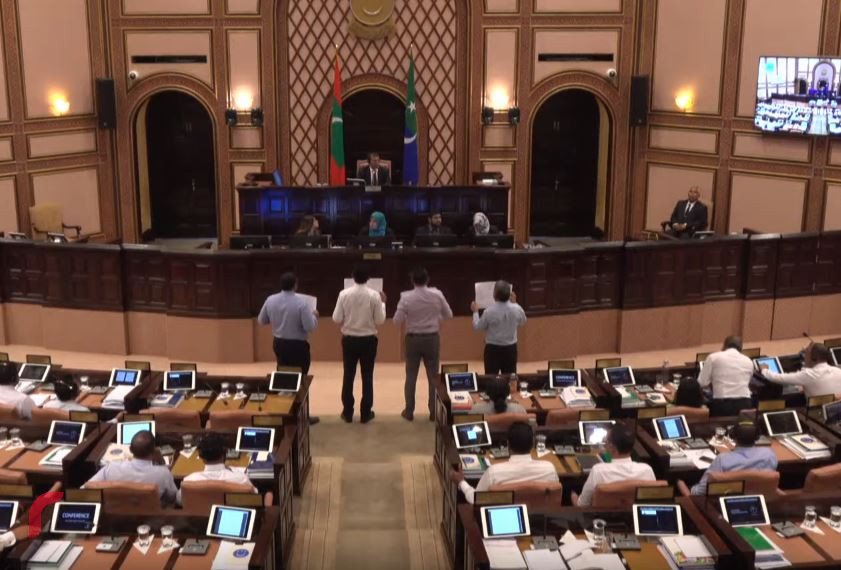 Yameen was sentenced to five years in prison on Thursday, as well a fine of USD five million, after being found guilty of laundering USD one million through the state-owned Maldives Marketing and Public Relations Corporation (MMPRC) via a private company SoF, during his presidency.
He is currently incarcerated at the Special Protection Unit in Maafushi Prison.
The opposition coalition has been holding rallies to protest Yameen's incarceration since Thursday.