Maziya Sports and Recreation Club had an easy win against Super United Sports (SUS) in the Dhiraagu Dhivehi Premier League (DDPL) on Sunday, while the second match of the day saw Green Streets Sports Club's first win of the season.
Maziya crushed SUS with a 3-nil score in the first match played under their new Serbian coach's guidance.
The team, who showed an impressive game throughout, scored all three goals during the first half.
Mohamed Umair scored the first goal at the 17th minute giving Maziya a lead while their foreign player Cornelius Stewart widened the gap at the 31st minute.
The club's third goal and Stewart's second one of the match was during the last few minutes of the half.
SUS' game showed improvement as they came back for the second half, but failed to find any good scoring opportunities.
Speaking after the match, Maziya's coach Risto Vidakovic said that he was impressed with the player's performance during the first half and that they lost control during the second one. He added that there is a lot to improve, and that an outcome cannot be seen from just a few days of training, referring to the fact the he just took over the team.
SUS' Ahmed Nashid said that the biggest reason for the loss was poor performance during the first half. He said their game plan worked, adding that the aim was to ensure that there were no additional injuries or cards.
With this win, both Maziya and Club Valencia now have 11 points in the league table. However, Maziya retakes the top position on goal difference. SUS is in fifth place with six points.
Green Streets VS Da Grande Sports Club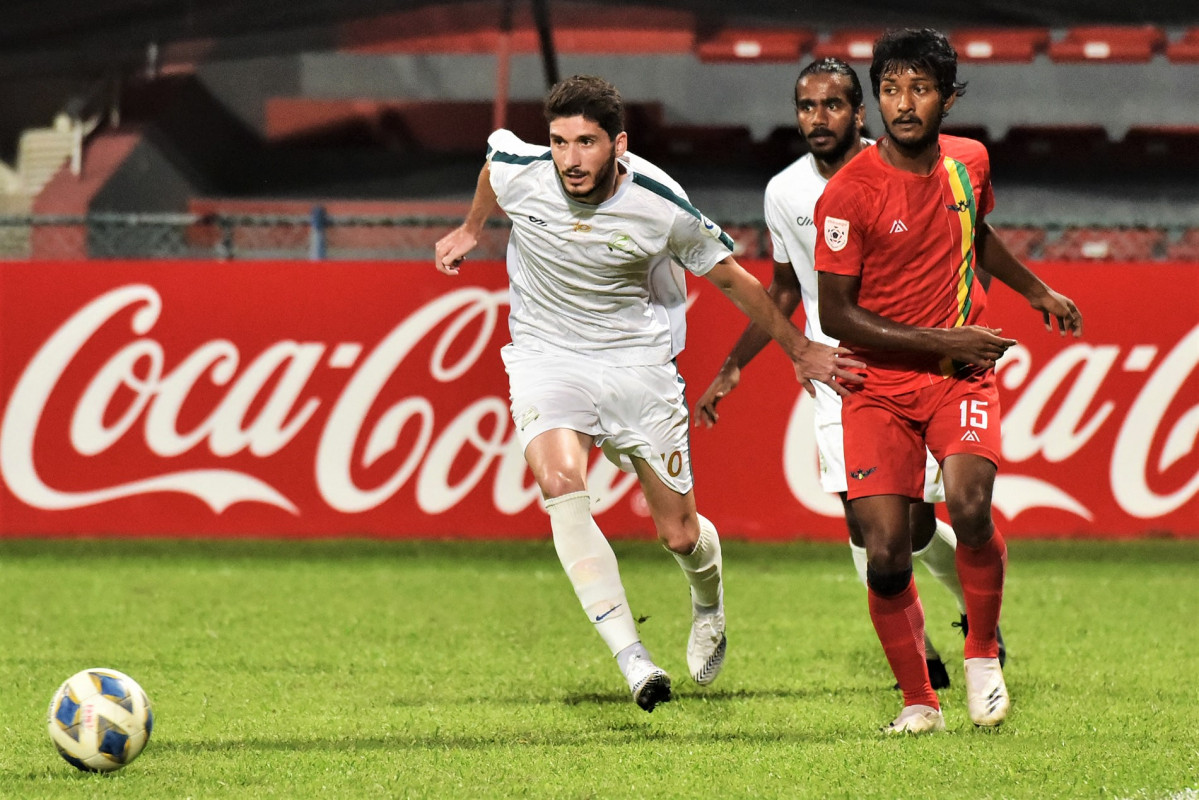 Green Streets beat Da Grande Sports Club on Sunday night, with a 1-0 score.
Both teams showed an equal performance during the match, with Green Streets taking the lead early on at the 13th minute with a goal by Spanish forward Angel Munoz.
With this, Da Grande increased their attacks towards the Green Streets goal but were unsuccessful.
Speaking to the press after the match, Green Streets' coach Ali Nisthar Mohamed said that their aim for the match was to earn three points, adding content in having achieved it.
Da Grande's Ismail Mahfooz (Imma) said that teams faces victories in losses in football. Further, Imma said that he was happy with players performance despite the loss and added that they will continue work to improve their game.
While this is Greens' first win of the league, with two addition draws, the club is in sixth spot in the league table with five points. Da Grande is in third after earning six points in five games.