Maldives Police Service (MPS) has arrested the man accused of raping his two-year-old daughter.
The other two suspects in the case, a 62-year-old and an 81-year-old were arrested on Friday evening.
The case of sexual assault against a two-year-old arose from Kanduhulhudhoo island in Gaaf Alif atoll late Thursday and implicated in the case are the two-year-old's father, grandfather and great grandfather.
The 33-year-old arrested from a flat in Hulhumalé on Friday night has since been taken to Dhoonidhoo Detention Center, revealed authorities.
The arrests come at a time police assured the public that they are investigating the matter as a serious case.
RaajjeMV understands that the three men were allegedly involved in the rape cape, while her mother was in capital city Malé for a drug rehabilitation program.
Sources report that the parents are drug users.
Posts circulating of social media have revealed that the child's aunt had apparently attempted to take the two-year-old under care when her mother left, however, the father had refused. Her injuries and wounds were discovered after she told her aunt about pain in her private parts, upon which her aunt took her to the hospital and got her consulted with a doctor.
The child was taken under the care of the Ministry of Gender, Family and Social Services about two hours since the case came into the spotlight.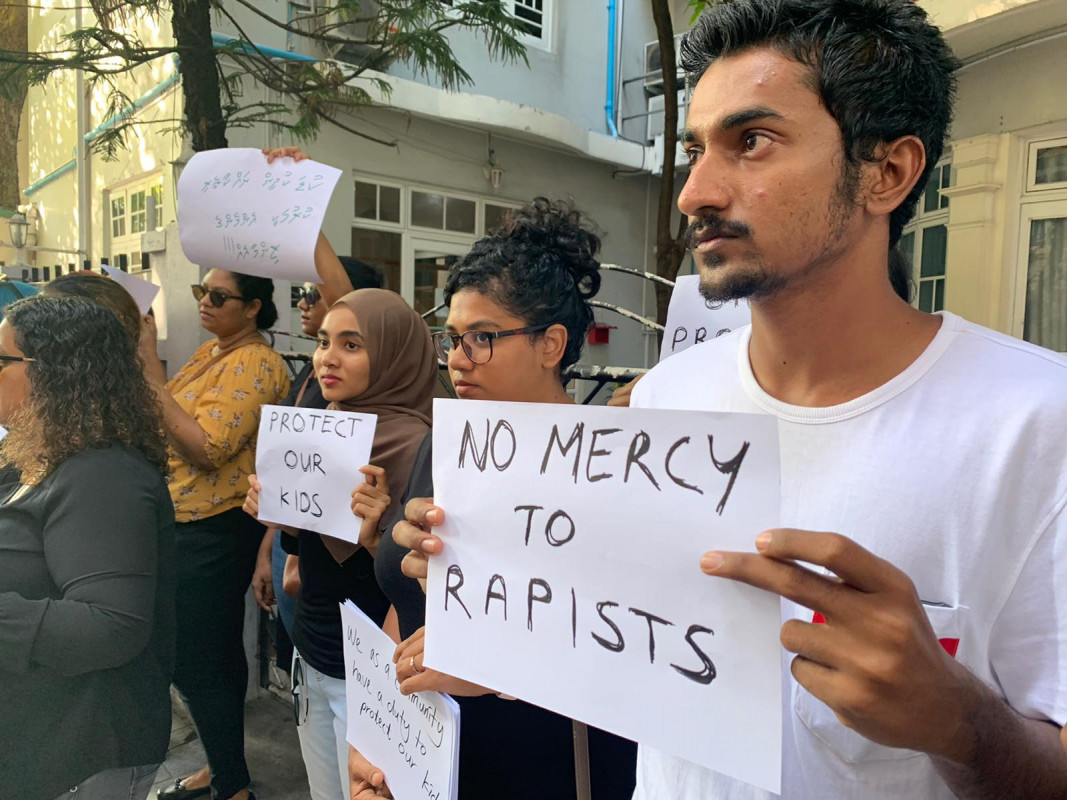 The disturbing news took social media by storm, with several users calling for the resignation of Gender Minister Shidhatha Shareef. Not long after, protesters took to the streets of capital city Malé and its suburban extension Hulhumalé.
As such, a large crowd gathered outside a flat, 108, where they believed the father of the child "was in hiding".
While the crowd soon got out of control and officers were seen doing their best to control the frenzied protestors, some were injured during the protest, where protestors threw stones at the flat, shattering the glass windows.
This comes at a time authorities have drawn public criticism, especially the Gender Ministry for inadequate action taken against child sex offenders and to curb the crime, not observably decreasing in the Maldives.