Managed and owned by local brand Cocoon Investments, You & Me by Cocoon has officially been opened as its second resort.
At a special ceremony on Saturday night, You & Me was inaugurated by Minister of Tourism Ali Waheed in whose words the resort is magnificent.
Expressing his hope that more such exceptional resorts will be opened in the Maldives in coming years, Minister Waheed stated that investors have the government and ministry's full support in the industry.
Catering to guests aged 16 and above, You & Me sits on an elegant, rustic, private and romantic island in Raa atoll, comprising of a total of 109 villas out of which 99 are over-water villas.
The fresh new face in the tourism industry features Manta Villas, Dolphin Villas with and without pools, Beach Suites with Pool, Aqua Suites with and without pools and the pride of all villas, the grand "You & Me" Suite which features a private gym, massage area with an attached kitchenette and cinema.
All five world-class dining outlets located across the island offer authentic world-wide cuisines. The island features a dine around concept where guests that chose half-board, full-board plus and all-inclusive packages may enjoy lunches and dinners with a wide variety of dining options.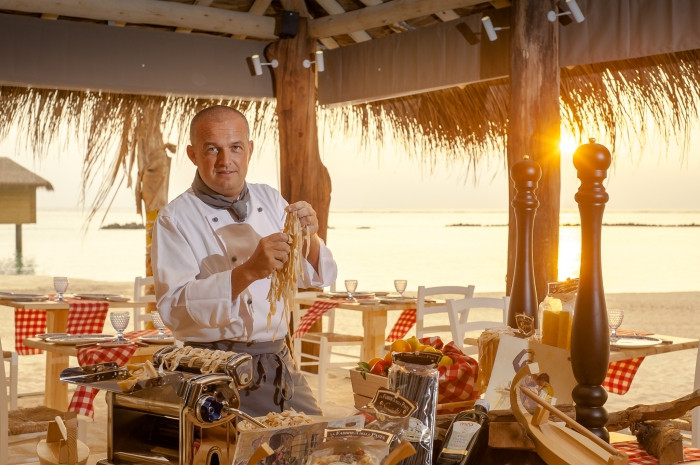 The main attraction, boasting an under-water fine dining restaurant name H2O by LAGO sits at the bottom of the island's lagoon six meters under. Nestled into the breath-taking coral gardens and marine life the waters have to offer, the biggest under-water restaurant in the world can cater to 26 guests at once.
Accessible by a 45-minute seaplane flight from Velana International Airport, guests will then take domestic flights to the Ifuru Airport in the atoll followed by a 20-minute speedboat ride.
Having opened its first resort Cocoon Maldives in March 2017, Cocoon Investments has been a leading brand in the Maldives tourism industry.