Hearings of the terrorism cases against Former Police Commissioners Abdulla Riyaz and Ahmed Areef are scheduled for Wednesday.
The preliminary hearing of the terrorism case against the last Police Commissioner Areef, who is currently under police custody, is scheduled for 14:00 hrs tomorrow.
Even under the terrorism allegations against Chief of Justice Abdulla Saeed, Justice Ali Hameed, Former President Maumoon Abdul Gayyoom and parliament member (MP) Abdulla Sinaan were accused of conspiring with Former Commissioner Areef to overthrow the government. They were also accused of using Areef's influence to plan and generate conflict between police officers, of attempting to destroy the peace of Maldives and of plotting to unlawfully overthrow a legally established government, in addition to influencing national institutions and endangering the people of Maldives.
The pleminary hearing of the terrorism case against Abdulla Riyaz who held the position of Police Commissioner in both President Mohamed Waheed Hassan Manik's and President Yameen Abdul Gayyoom's administrations is scheduled for 17:00 hrs on the same day.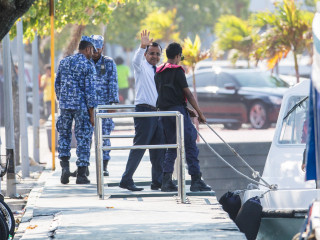 A jail sentence for Riyaz is currently being set as the allegations against Riyaz of interrupting a law maker were proven in court.
High Court sentenced Jumhooree Party's deputy leader and representative of Kimbidhoo constituency MP Riyaz to four months and 24 days on 24th April after rejecting Criminal Court's decision to dismiss the allegations.