As part of the safeguards being implemented against the wide-spreading Novel Coronavirus (COVID-19) across the globe, the Maldives Immigration department is to ban arrivals from Bangladesh starting Tuesday.
Taking to Twitter on Monday, the department revealed that all passengers and crew with a travel history to Bangladesh within the past 14 days will "not be allowed" to enter or transit through Maldives.
Highlighting that the ban is temporary, Immigration revealed that the ban is effective from Tuesday through 24 March.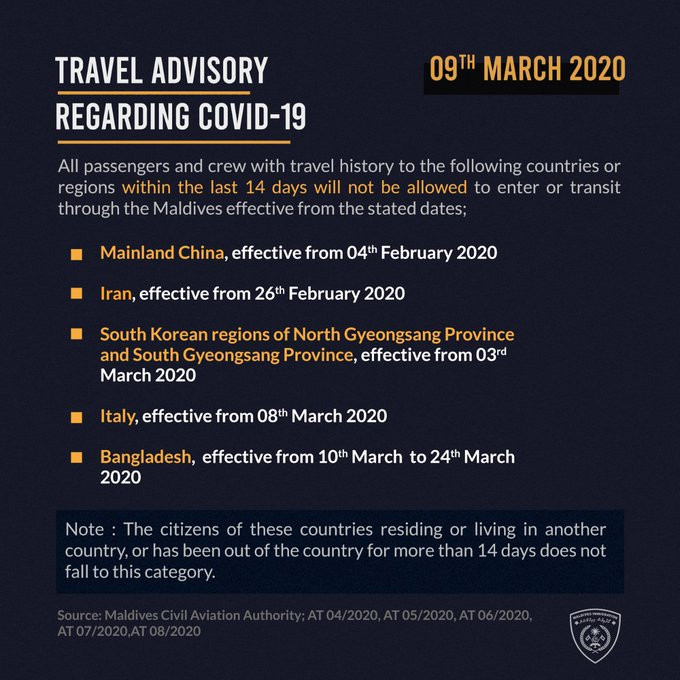 On Sunday, authorities also banned arrivals from Italy, at a time four cases of the fatal infection have been confirmed in the country since Saturday.
Earlier, a travel ban was issued on China, effective from 4 February, Iran, effective from 26 February as well as South Korean regions of North Gyeongsang Province and South Gyeongsang Province, effective from 3 March onwards.
The announcement also reads that citizens of the aforementioned countries residing in another country or has been out of their homeland for over 14 days are abstained from the travel ban.
The positive cases surfaced from Kuredu Island Resort after an Italian tourist vacationed there and reported to have tested positive to the disease after returning home. Since then, the resort has been on lockdown along with Sandies Bathala Maldives.