With its crystalline blue waters, endless white beaches and picturesque greenery, Maldives has long been glamorized as the world's number one honeymoon destination to spark travelers wanderlust. It has been in the wanderlust hot list for as long as we can remember. The tropical paradise continues to beckon multi-generational travelers with new establishments every year.
This year, travelers are sure to be drawn to the sunny side of life with spectacular offers of a family-friendly experience with the inauguration of the CROSSROADS project by Singha Estate in mid-2019.
With an investment of over USD 300 million, CROSSROADS is in the first phase for the three-island-resorts concept. It is set to inaugurate the three-island-resort in July 2019.
The overall development will ultimately encompass a total of nine islands under the "One Island, One Resort" concept.
CROSSROADS Maldives screams perfection for a family getaway.
As the largest integrated leisure destination sitting among the incredible greenery of Kaafu Atoll in Emboodhoo Lagoon, CROSSROADS Maldives offers a wide range of entertaining activities that have especially been crafted for families, both local and foreign alike. Franchise of Thailand's leading real-estate development company, CROSSROADS is a 15-minute speedboat ride from Velana International Airport and comes with an 800-meter-long up-scale beach walk, The Marina, with a scatter of 50 retail shops designed by world-renowned luxury resort designer Bill Bensley. The project in question features SAii Lagoon and Hard Rock Hotel Maldives.
SAii Lagoon offers 198 spacious beach villas and over water villas. They are perfect for those looking for an inspiring escape with the promise of personalized comforts, El Fresco spaces and genuine services. Room categories offered in the resort are the Sky Room, Beach Room, Beach Villa, Over Water Villa and Over Water Pool Villa.
Hard Rock Hotel boasts 178 spacious guestrooms including family suites and exclusive villas. Room categories include the Silver Sky Studio, Silver Beach Studio, Silver Family Suite, Gold Beach Villa, Platinum Over Water Villa, Platinum Over Water Pool Villa, Rock Royalty Over Water Pool Villa and Rock Star Villa.
General Manager at the Hard Rock Hotel, Tolga Unan told press that the dynamic property is designed for families, specifically ones with kids.
"We have also incorporated lots of sustainable ideas as part of our program. We would like to influence our guests by providing them products and companies who provide very comfortable, very good-looking products that are good for the environment. All our amenities and guest rooms are biodegradable. What we are featuring here is that us as a host, we would like to influence our guests to live sustainably while they are here, but at the same time they can take some of these ideas back and continue living sustainably when they are back in their countries"

~ Tolga Unan
The hotel also features Hard Rock International (HRI), one of the most globally recognized companies renowned for its unique, rock and roll memorabilia.
"I think Hard Rock is going to be a great addition to the spectacular resorts that already are part of the Maldives inventory. At the same time it is going to offer new ways, new dynamic approached to the hospitality that Maldives is known for"

~ Tolga Unan
With a promise of creating an exciting new beach experience unlike travelers have yet experienced, The Marina at CROSSROADS Maldives assures that children of all ages are sure to discover endless moments of fun and excitement throughout their stay.
Being offered for the first time in Maldives, The Marina at CROSSROADS Maldives proudly presents retails shops, activities and several entertainments offers such as:
Maldives Discovery Center:
Designed by Bill Bensley, the center provides unique, cultural and natural attractions with a combination of immersive marine conservation experience and a coral reef walk-through that offers insights into the origins of the Maldives as well as the heritage that intersects with culture. The center is embodied in Singha Estate's values to express and preserve cultural identities and sustainability.
The Yacht Marina:
With 30 berths, this first and only luxurious yacht provides luxurious concierge services including jetty and pier management services.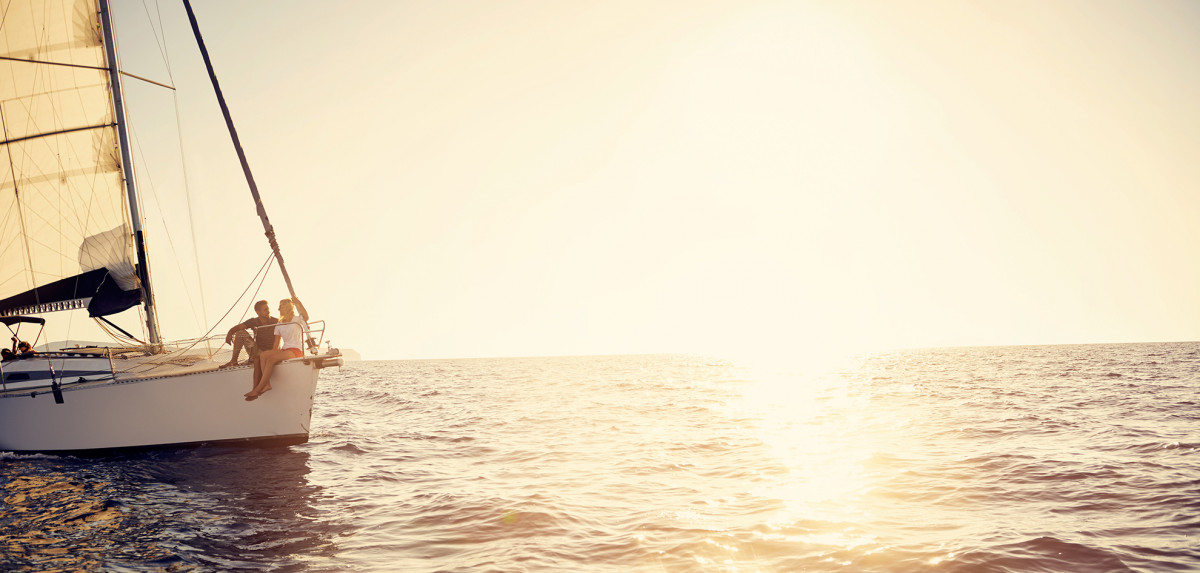 Marine Discovery Center:
Hosting a marine biologist laboratory with "3R" (recruit, rehabilitation and release) underwater activities such as scuba diving, snorkeling, coral propagation and clownfish schools, the center sits on the island, an exciting aquarium experience for children. The center introduces marine conservation schemes dedicated to preserving and enhancing the biodiversity of the Maldives prestigious marine ecosystem.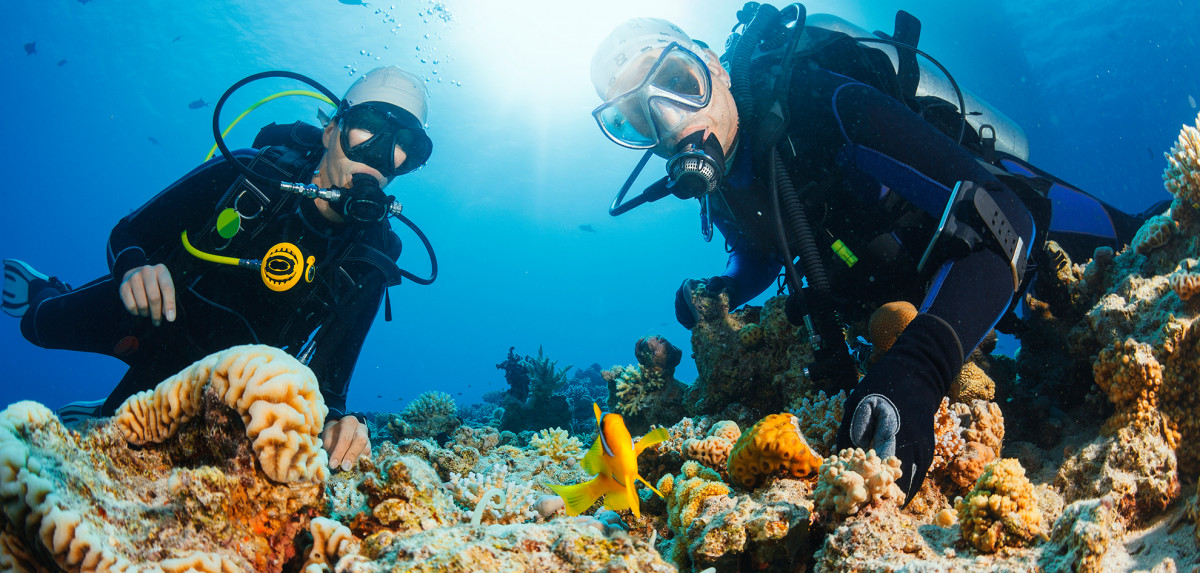 The Koimala and Maalimi's Junior Beach Club and Camp:
Named after the "Maalimi" – the fastest black marlin in the ocean and "Koimala" – the green turtle, king of the reef, this beach club and camp was designed under an innovative, engaging concept specially for children aged 4-12. The eclectic combination of attractions offered by the club and camp include a dynamic, zero-depth splash pad (an aquatic play area) as well as a wibit inflatable water park which allows fun-seekers to enjoy the water adventures safely. While there are play zones, the center makes sustainability and environmental awareness an integral part of the experience. Children learn to respect and preserve their surroundings through playful activities and stories with likable characters to present the message.
CROSSROADS Event hall:
Boasting one of the largest renting spaces in the country, the hall is housed in a bold and inspiring design with the venue covering 800 square meters. It comes with high ceiling and breakout rooms ideal for meetings or workshops, dinners, gatherings and celebrations. It also offers a choice of set-up options by a professional event planning and catering team.
CROSSROADS eclectic dining experience.
No family vacation is complete without a one-of-a-kind and unbeatable dining experience that leaves visitors determined to come back for more.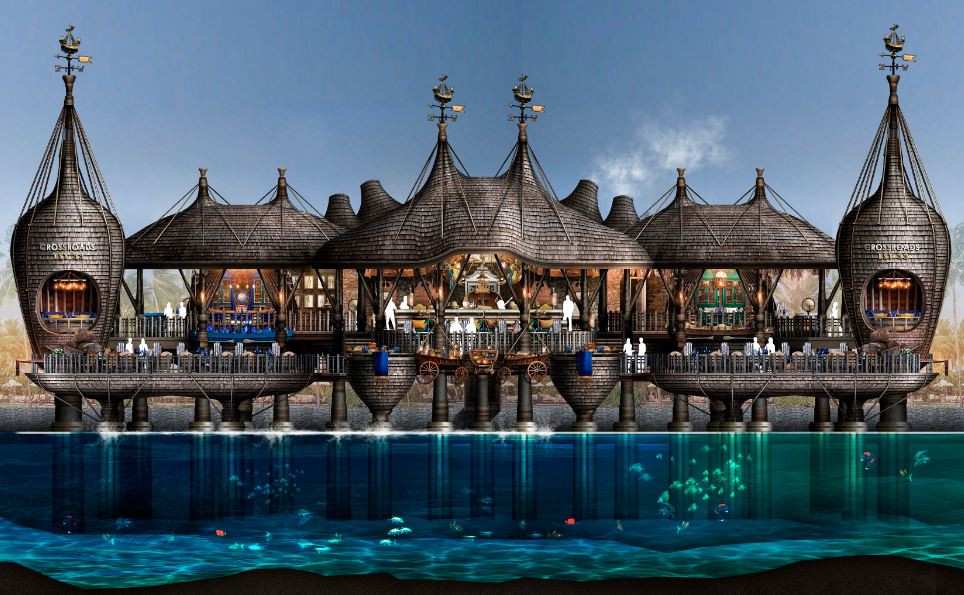 CROSSROADS brings a vibrant and dynamic dining experience with an expansive selection that caters to both local and foreign families alike and promises to leave visitors "blown away". Housing not only local restaurants that feature Maldivian cuisine, it promises a fine-dining at world-renowned restaurants such as Hard Rock Café Maldives, Ministry of Crab and Nihonbashi among several others.
Their array of appealing dining experiences includes artisanal brews, tropical and fresh cocktails, cozy drinks by the pool, Thai-inspired treats, a seafood grill and a daily gourmet breakfast.
With a well-crafted selection of family-friendly offers, CROSSROADS has also revolutionized the tourism landscape in the country by introducing a mobile application that allows guests to plan and manage their trips with ease. The application provides easy access to all facilities and services available in order to cater to the comfort and requirements of its customers.
"One Island, One Resort"
Portrayed as the place "where cultures meet", CROSSROADS was inspired by the cultures from East and West at the crossing of the Maritime Silk Road.
The CROSSROADS project aims to redefine the Maldives vacation experience as the largest integrated leisure and recreation destination that will attract and keep the international market, "mesmerized"