Club Wamco became the winner of the 2019 Volleyball Association Cup, Women's Division, after beating Police Club in 3-1 sets in the finals on Saturday.
The team took the first set 25-23 but Club Police had dominated the second set 25-17. Club Wamco fought back in the next set, ending it 26-24 with the fourth and final set ending 27-25.
While Police Club is the runners-up of this year's Volleyball Association Cup, Club Lorenzo Sports came in third place with Alma Sports Club in the fourth spot.
At the closing ceremony held afterwards, awards were given out to the best players of the tournament, or the 'dream team.'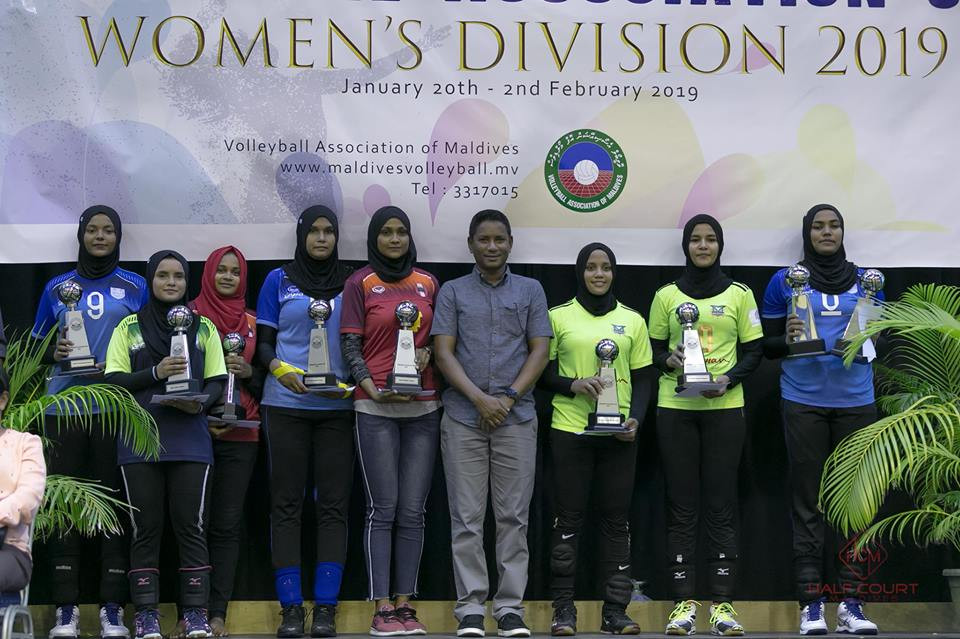 They are;
Best outside attacker – Hawwa Rashidha, jersery no. 10, Police Club
Second best outside attacker – Aishath Majidha, jersey no. 10, Club Wamco
Third best outside attacker – Aminath Areesha, jersey no. 7, Club Wamco
Best setter – Fathimath Joozan Zareer, jersey no. 7, Lorenzo Sports Club
Best center – Hawwa Sakha – jersey no. 9, Lorenzo Sports Club
Second best center – Khadheeja Ibrahim, jersery no. 16, Police Club
Best libero – Nuha Waheed, jersey no. 2, Police Club
Most promising player – Aminath Shah Shamin, jersey no. 9, Police Club
Most Valuable Player – Hawwa Rashidha, jersey no. 6, Police Club
Most Valuable Coach – Sofwan Ahmed, Club Wamco
Gender Minister Shidhatha Shareef served as the chief guest at the final match.
The Volleyball Association Cup's men's division is to be held after Ramadan.