Human Rights Commission of Maldives (HRCM) has requested Prosecutor General (PG) Office to raised charges against some individuals, following the completion of its investigation into the death of Abdulla Rasheed, a senior who died in prison.
RaajjeMV understands that HRCM had forwarded the case to the PG Office last week. While RaajjeMV understands that the Commission's investigation had found 'negligence' to be the cause of Rasheed's death, we were unable to get any other details on the Commission's investigation.
HRCM launched an investigation into the matter last October, with the Commission President Aminath Eenaz confirming it at press conference, saying that they have launched a probe into negligence reports by the Maldives Correctional Services (MCS).
Rasheed, who was jailed following the May Day protests of 2015, died in October 2017. His jail sentence was to end in February 2019.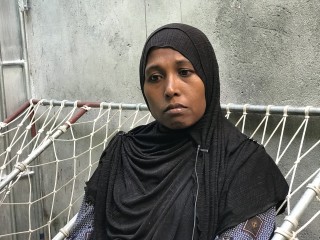 Citing doctors reports, Rasheed's wife Shehnaz Abduraheem said that cause of death was due to failure of lungs and kidney, due to internal infections. Hence, his family also accused the Maldives Correctional Services (MCS) of being negligent for failing to provide him with the necessary medical treatment, despite having been sick for months. Furthermore the family said that they were not properly informed of how to address any of the issues.