Two new ambassadors have presented their Letters of Credence to President Ibrahim Mohamed Solih on Sunday morning.
During the one out of two respective meetings, Ambassador Designate of the European Union Denis Chaibi presented his credentials to Solih, who conveyed felicitations upon the commemoration of his term.
Having conveyed good wishes to EU's President, Solih shed like on how the bonds between Maldives and EU reached new heights within the past year, touching down on several high-level visits that took place.
Further, the president highlighted that the Maldives-EU policy dialogues are proven to have been instrumental for strengthen cooperation.
Discussions also revolved around the decision of the EU Council to go carbon neutral by 2050, which Solih commended, and the issue of tariffs imposed on Maldivian fish products by the EU.
He expressed hope for a positive way this issued may be moved forward.
In addition, Solih expressed confidence that the relations between EU and Maldives will be further enhanced during Ambassador Chaibi's tenure.
Reiteraing the president's remarks on strengthening cooperation in areas of mutual concern, Ambassador Chaibi stated that he hopes that cooperation will heighten in areas of climate change and counter terrorism, having highlighted EU's priority areas which are environment and climate change, migration and digitalization.
The Ambassador expressed commitment to put in his best efforts during his tenure, at a time Maldives is undertaking extensive reforms with efforts to uphold the values of democracy, the rule of law and good governance.
NEW AMBASSADOR OF NORWAY TRINE JORANLI ESKEDAL PRESENTS HER CREDENTIALS TO THE PRESIDENT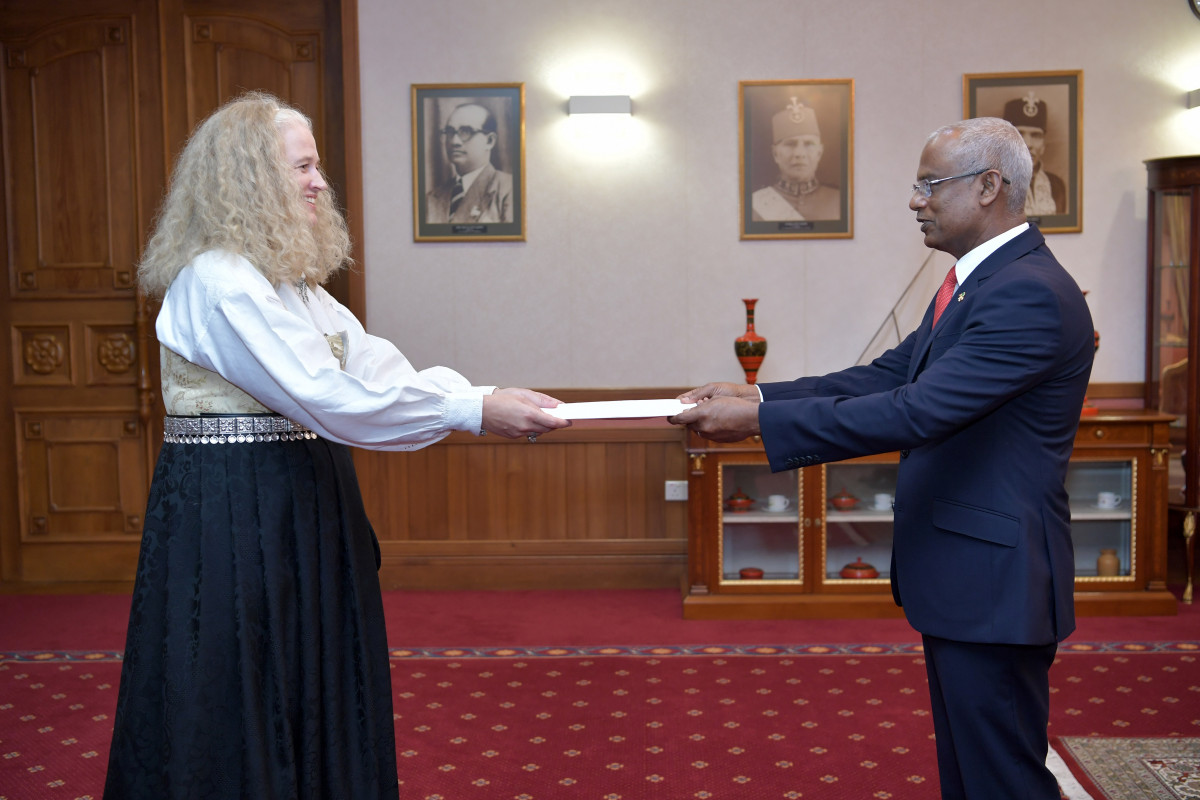 The second meeting saw Ambassador-Designate of Norway, Trine Joranli Eskedal presenting her Letter of Credence to the president.
Having congratulated Ambassador Eskedal on the commencement of her Ambassadorial term, Solih stated that Maldives and Norway have enjoyed close cooperation and strong bilateral ties for a long period of time.
Ambassador Eskedal extended gratitude to Solih for the well wishes and highlighted possible areas of further cooperation and collaboration such as economic development, sustainable oceans and the renewable energy sector.