The United States embassy hosted an Iftar on Sunday, where a number of government officials- current and former- were in attendance, including former President Mohamed Nasheed.
While this was Ambassador Alaina Teplitz's first Iftar, she was appointed last year, it is a long standing tradition of the US embassy.
After the Iftar, the ambassador spoke exclusively to RaajjeTV. Following is a transcript of the interview.
RTV: How was your first Iftar in the Maldives?
Ambassador: I was really pleased to continue the long standing tradition of the US embassy, to break fast with our friends and colleagues here in Maldives, so it was a nice opportunity to renew some acquaintances and share a meal together.
RTV: You have been the United States' ambassador to Maldives since October last year, and had traveled here in November, do you see any differences in the climate here (and in what aspect)?
Ambassador: I've had an opportunity to visit four times since then, which has been great. And yes, I see a lot of positive developments, of course the most recent of which was just a very successful, peaceful parliamentary elections in April. I also noted that there have been some legislative changes, the repeal of the anti-defamation act for example, and anti-corruption efforts like requiring elected officials to forward financial disclosures. These are all things I think Maldivians should be proud of and it's a real sign of progress.
RTV: There has been some confusion over a recent travel advisory, due to some issues with the first one posted. While it was corrected and reposted, there has been debate whether the United States has really issued a travel advisory to Maldives or not, and what it means. Could you clear this up?
Ambassador: Yes, I'm really glad to have the opportunity to clarify that. So, the United States does review and republish its travel advisories periodically, and as part of this process inadvertently, mistakenly the travel advisory was reposted. So, it made it look like it was new but it was actually the existing advisory. When we finished the review, of course we removed the language related to the state of emergency noting that things had changed in fact considerably, since the last advisory was posted. So the advisory went back to where it had been in the past, which was a level 2 and it stays there today.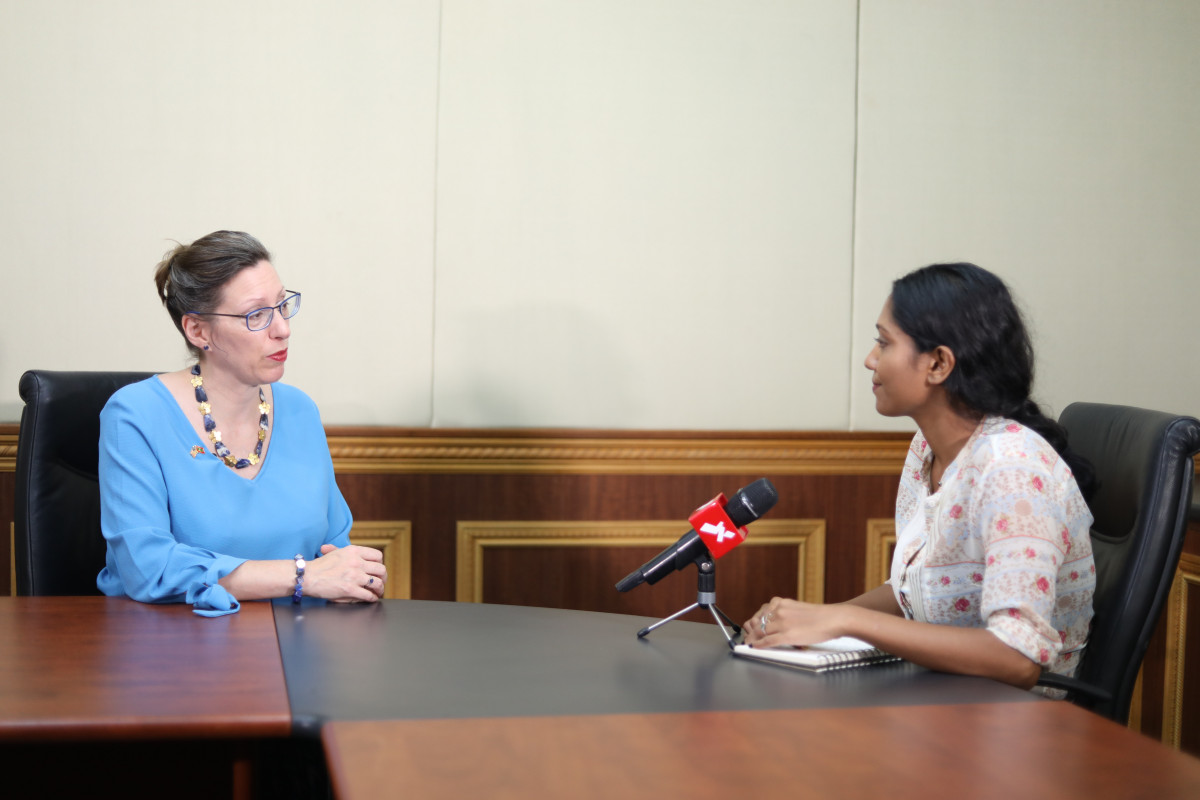 RTV: You are also the ambassador to Sri Lanka and have been there during this hard period in the country. Sri Lanka is very close to Maldives, is there anything Maldivians can do to help our neighbours?
Ambassador: This had absolutely been a heartbreaking time for Sri Lanka, and of course our thoughts are with the victims and their families, some of whom were Americans and others of many nationalities in addition to many, many Sri Lankans. This is a moment actually, for all nations to be reminded of the need to work together, global terrorism is just that, it's global and it takes the cooperation of all nations to prevent terrorist attacks from taking place, to keep people safe, and I think looking at the region there's ever more need today, to be collaborating between Sri Lanka, Maldives other countries in the region, then there ever was. So, this is something that we certainly want to encourage and it can be part of our cooperative and global effort to get ahead of the terrorist threat.
RTV: What is your opinion on the Maldives' government's decision to bring back and "rehabilitate" some of the families of Maldivian jihadists in Syria? Do such programmes work?
Ambassador: Well, certainly for children of ISIS-affiliated families the situation in the displaced persons' camps on Syria are very dire, and these are a very vulnerable population. Governments are going to have to think carefully about how to manage citizens in these circumstances to look at ways to address support for them, everything from counselling and potentially de-radicalization. There are no easy answers in this and again, this is a global problem so countries do need to work together. There are promising signs that some countries have developed best practices in how to manage people who are returned. Certainly, there can be some lessons there, for Maldives, but this is indeed a challenge.
RTV: Is there anything you would like to add, before we conclude?
Ambassador: Well, let me say Ramadan Mubarak. I am really pleased to be here at a special time of the year for everybody and to have had a chance to celebrate with all of our friends.