President Ibrahim Mohamed Solih met with members of the Maldives Broadcasting Commission (MBC) last week, despite his empathy for journalists.
According to a tweet shared by MBC last Wednesday, they had "discussed issues and challenges facing the Broadcom and the broad requirements of developing the broadcasting sector in general."
The President's Office, who has been sharing photos and statements of the president's meetings, has not shared anything.
However, the mere fact the President took a meeting with the Broadcom members has raised more than a few eyebrows.
Twitter user @MunnimSaeed called it the "joke of the day," while @Ra86U said that "the 19th parliament's first task should be to hold a no-confidence vote on these members."
@Karusathey said that the biggest challenge to Broadcom is that none of the members are qualified for the job.
Journalist Mohamed Junayd said that the members are "sucking up to the new president in hopes of retaining much needed income," adding that it has not been a year "since they blatantly violated press freedom rights in the country."
He, along with a number of other journalists, also called to abolish Broadcom.
Broadcom members, back in March, met with the Finance Minister Ibrahim Ameer, seeking to increase their budget.
It had, in less than two years, taken a total of MVR 3.7 million from RaajjeTV, using the draconian anti-defamation law.
Introduced in 2016, Committee to Protect Jounalists (CPJ) has said that the law would "further stifle the beleaguered press and marks a significant step backward from press freedom in the Maldives."
However, Broadcom President Ibrahim Shaheeb denied that the fines were imposed arbitrarily. Since President Solih's election in September 2018, Shaheeb has admitted that "the commission had not been fair in their investigations into defamation complaints."
As President Solih proudly declared at last year's Journalism Awards, the first bill he had ratified since assuming office was to repeal the ant-defamation law. At the same ceremony where Shaheeb was presented the "Alimas Galan." Where the organizer, Maldives Media Council (MMC)'s president thanked the president for "killing" the anti-defamation law.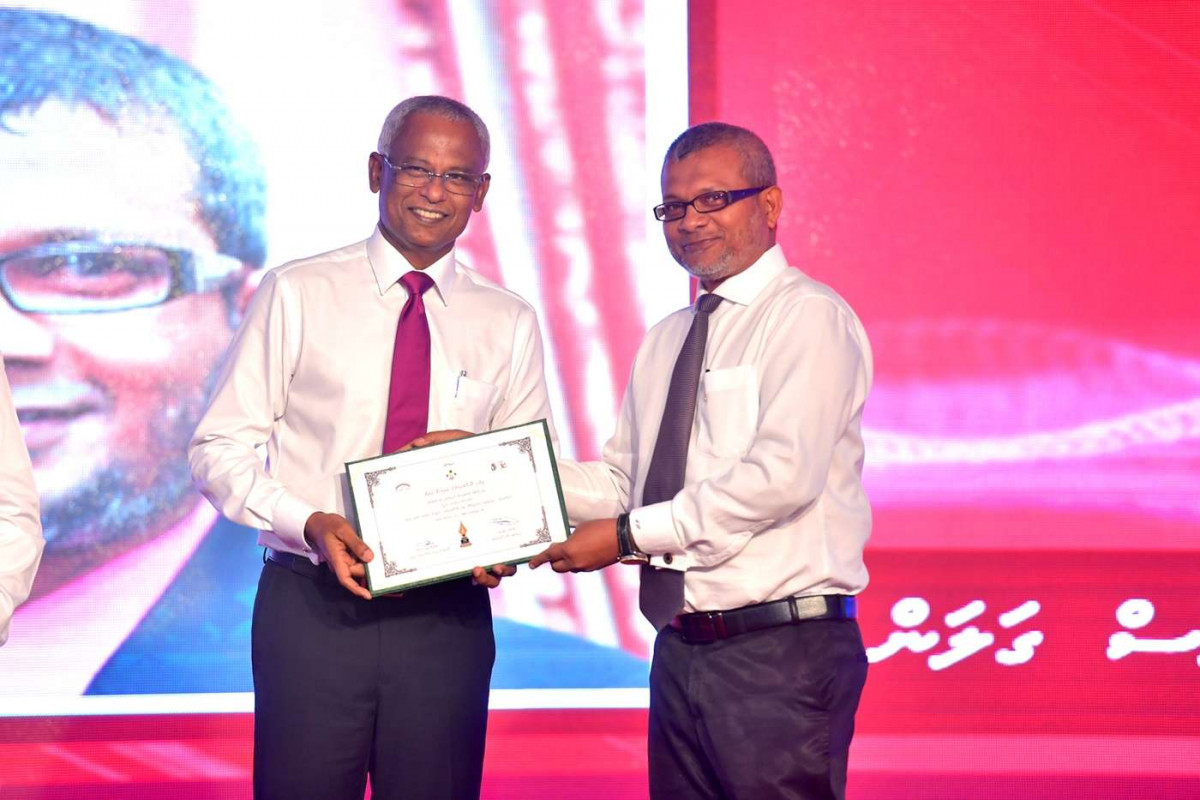 President Solih has a great understanding for the work being carried out by journalists, and has taken every possible opportunity to empower and motivate journalists.
After being elected, he visited media stations and expressed his gratitude for their work.
Just a few days ago, he called on journalists "to be attentive" to the government's work and to report when they do something wrong.
So, dear president, meeting with the same people who contributed to restricting media freedom in the county, is just not okay.
Do something. If not dissolve the Commission, at least change the members that were put there by the previous administration; the same members that helped them curtail press freedom in the country. Not sharing details of the meeting is not enough.