Former president and opposition leader, Mohamed Nasheed met with a senior Indian government official on Wednesday.
Nasheed used his official twitter account to announce the meeting with Subramanian Swamy, a senior official of India's ruling Bharatiya Janata Party (BJP), noting that they had discussed the Maldives' current political situation and the upcoming presidential ballots.
He also shared the opposition's concerns regarding incumbent President Abdulla Yameen's intentions to 'rig' the election.
Pleasure meeting Hon. Min @Swamy39 today. We discussed the current political situation in the Maldives, upcoming presidential elections and our concerns on how President Yameen intends to rig Sept 23rd election. pic.twitter.com/enYFZIdJ99

— Mohamed Nasheed (@MohamedNasheed) August 22, 2018
Swamy also shared details of the meeting via twitter, highlighting the self-exiled former president's fears regarding September's polls.
"India cannot allow that as a neighbor and also since current usurper President Yameen has humiliated Indians recently. We need an action plan," he added.
In Colombo today I had a chance meet with Fmr Maldive President Naseed. He is apprehensive of gross rigging in their forthcoming election. India cannot allow that as a neighbour and also since current usurper President Yamin has humiliated Indians recently. We need an action plan

— Subramanian Swamy (@Swamy39) August 22, 2018
This is all the information that was shared regarding the meeting, as per any other such meeting.
Nasheed asks India to invade Maldives, says state media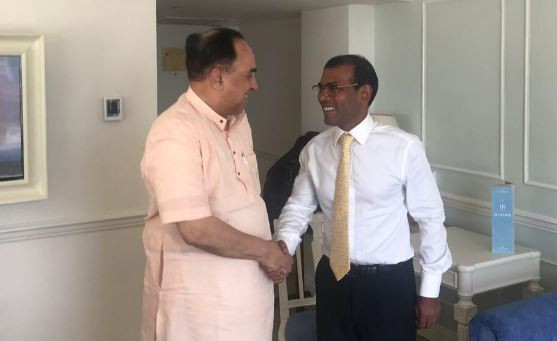 The former president's meeting with the Indian official was inevitably one of the biggest headlines from Wednesday, with all local news outlets scrambling to cover it especially given the current tension between India and Maldives.
While most decided to use these tweets for their respective news pieces, given that details of such meetings are kept under wrap, state media Pubic Service Media (PSM) seemed to have additional information regarding the meeting.
According to PSM, the former president had asked Swamy to "invade" the Maldives.
Using the government's religion tactic, PSM described Swamy "as an extremist Hindu that contributes to the various human rights violations against Indian Muslims".
It further noted that the Indian official had said that he is "certain" that the incumbent president will win the election, and that he and Nasheed had discussed on ways to "take action on the matter".
Did PSM know about the meeting beforehand?
Not only did PSM have additional information on the meeting, it seems like the state media was aware of the meeting even before it took place.
Prior to the article, PSM sent out a tweet regarding the meeting.
"Former President Nasheed, who has fled imprisonment, met with a senior Indian BJP official and discussed on India invading the Maldives. Condemning Nasheed's [this] act, Maldivians are raising their voice against it," translates the tweet in Dhivehi, with a public opinion video attached to it.
Breaking News: Hukumah filaigen ulhey kureege Raees Nasheed, India ge BJP ge member akaa bahdhalu kurahvaa India in Raajje ah araigathumaa behey gothun mashvaraa kohfi.
Dhivehin dhanee Nasheed ge amalu kuhverikoh, ekamaa dhekolhah adu ufulamun. pic.twitter.com/0q9QkpHQVx

— News (@PSMnewsmv) August 22, 2018
The video shows three individuals speaking against a foreign country meddling in the country's domestic affairs, making it seem that these were regarding Wednesday's meeting.
However, while the meeting they are supposedly talking about is to have taken place on Wednesday afternoon, two of these interviews appear to be taken during night time; despite the fact that PSM's tweet was sent out around two hours after Nasheed announced the meeting.
Is public outrage their endgame?
It is entirely possible that an official, either from MDP or BJP, had given PSM some additional information on the meeting. Or that it is how they interpreted the tweets sent out by Nasheed and Swamy.
But the fact that PSM, despite having an English news website, not publishing these in English raises a number of suspicions, especially on its intent.
It shows that the purpose is to create public outrage, towards Nasheed and the opposition, while hiding such fabrications from the international community so that the government can keep up the pretense that their opinions are valued.