India has achieved a massive victory in the rapid round of the ongoing "Western Asian Junior Chess Championship 2022".
By the end of the rapid round, 10 players from the Indian team had secured spots in the top three. Out of these 10, five players had won first place in their respective divisions.
Four more players had secured the first place in their respective age groups, with one player having come third.
Besides India, players from Uzbekistan, Kyrgyzstan, Sri Lanka, Kazakhstan and Bangladesh had also secured places in the rapid rounds.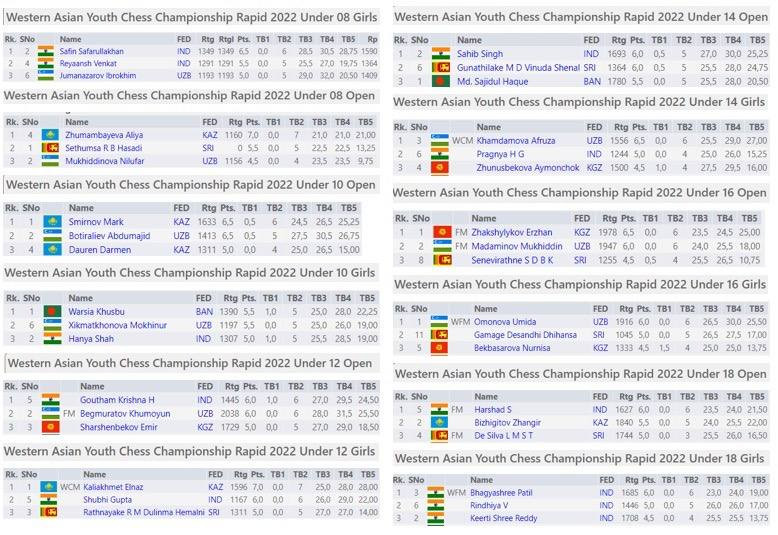 Currently ongoing are standard chess rounds, which began on Friday and will proceed until Wednesday.
The beach blitz round will be carried out on Thursday.
A total of nine countries are competing in the championship, deemed the biggest international championship to be hosted by the Maldives, to date.
The championship, organized by the Maldives Chess Association, is being held at the Convention Center in Ukulhas island of Alif Alif atoll, from June 16 – 23.
All of the teams competing in the "Western Asian Junior Chess Championship 2022" arrived in the Maldives by Wednesday's end.
Teams from Maldives, Kazakhstan, Kyrgyzstan, Uzbekistan, Bangladesh, India, Nepal, Pakistan and Sri Lanka are competing.
The Maldivian team comprises of 35 players.
The championship is on the theme "Smart kids – use only non-violent solutions to problems".
The championship will proceed under six age groups, in both male and female divisions and will see more than 180 participants competing for the champion's title.