Maldives Meteorological Service (MET Office) has issued a white alert over Haa Alif and Seenu atoll on Saturday evening.
While the department issued the alert at 03:50 pm on Saturday, it was issued for the next six hours starting from 4pm to 10pm on Saturday.
MET department predicts heavy rain and average strong winds of 23 – 29 miles per hour with winds gusting at a speed of 45 miles per hour, and rough seas to prevail in the region.
The service further reports there will be scattered showers with frequent thunderstorms over the country with surface winds gusting from south-west / westerly at 15-25 miles per hour in central atolls and 13 – 23 miles per hour over the rest of the country. MET further predicts winds to gust 45 miles per hour during rain showers.
Rough seas will prevail in central atoll with moderate to rough conditions during showers over the rest of the country.
MET department advices people to be cautious as there is a likelihood of surging swell waves during high tide times, especially seafarers while travelling in central and southern atolls.
While stormy weather and ceaseless rain showers continue to cause flooding all over the country, officers of the Maldives National Defense Force (MNDF)'s southern area tirelessly work to drain streets of outlying atolls which have been heavily flooded due to thunderstorms and swell waves.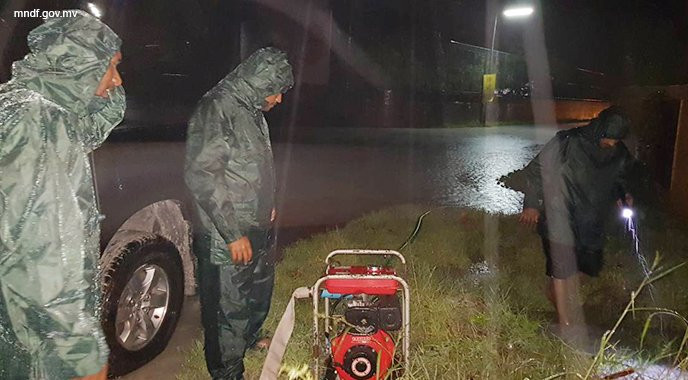 As such, earlier in September, MNDF had along with fire station officers in Fuvahmulah City, worked to drain streets that had flooded due to unceasing rain showers since days.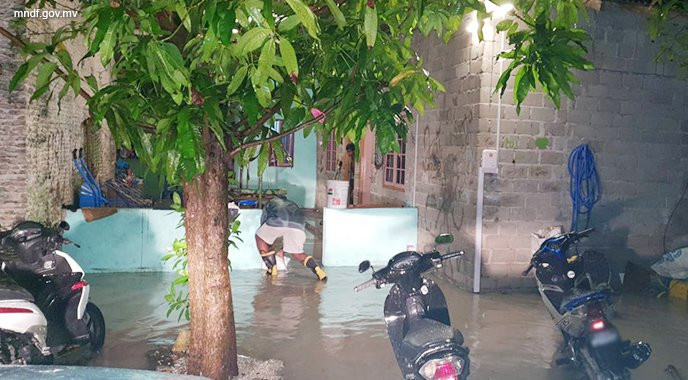 Officers had also worked to drain streets adjoining several districts in Addu City by stacking sandbags on the roads, a few days back.
MNDF confirmed that the water had reached some of the houses by the island's reefs.