Opposition coalition's Presidential candidate Ibrahim Mohamed Solih has pledged to make all the services of national medical insurance scheme Aasandha and National Social Protection Agency (NSPA) available to Maldivian residents in Sri Lanka, during his tenure.
Solih, speaking at a campaign event in Colombo on Monday afternoon, noted that many Maldivians live in Sri Lanka and that some of them are in the neighboring country just for medical purposes.
Solih added that Maldivian residents in Sri Lanka find it a difficult task to receive Aasandha and NSPA services. Highlighting that the ruling Progressive Party of the Maldives (PPM) pledged to bring a solution to this matter during their campaign in 2013, Solih stressed that while PPM's tenure has reached an end, a solution has still not been reached.
Stressing on this issue, the opposition candidate pledged to provide these services conveniently to Maldivians residing in Sri Lanka, during his tenure.
Speaking to a large crowd of Maldivian residents who had gathered at Berjaya Hotel in Mount Lavinia to meet with the opposition candidate and self-exiled Former President and leader of the MDP, Mohamed Nasheed, Solih said that Maldivian residents in Sri Lanka and other countries face several complications and difficulties in receiving services. Solih added that these hindrances have occurred due to the foreign policy created by the current administration of President Abdulla Yameen.
Solih further pledged to form a foreign policy during his tenure, that ensures that the Indian region is not perceived as a threat to world peace, going on to highlight that the Indian region is an important pillar to world peace.
Further speaking at the gathering, Solih pledged to strengthen bonds with neighboring countries during the opposition's administration, especially India and Sri Lanka. With the amendments to the current foreign policy, Solih highlighted that a way will be paved for convenient living for Maldivians.
Solih further pledged to rejoin the commonwealth, as well as rebuild diplomatic ties with Qatar and Iran, which the current administration has severed.
The opposition candidate also pledged to introduce a loan scheme specialized for Maldivian students, that will be applicable for education in any continent. Moreover, students who are currently studying abroad will also be given the opportunity to apply for this loan scheme, which will come with less interest.
Solih, MDP's Parliamentary Group leader and long-standing Parliamentarian, travelled to Sri Lanka to meet Maldivian residents along with Nasheed.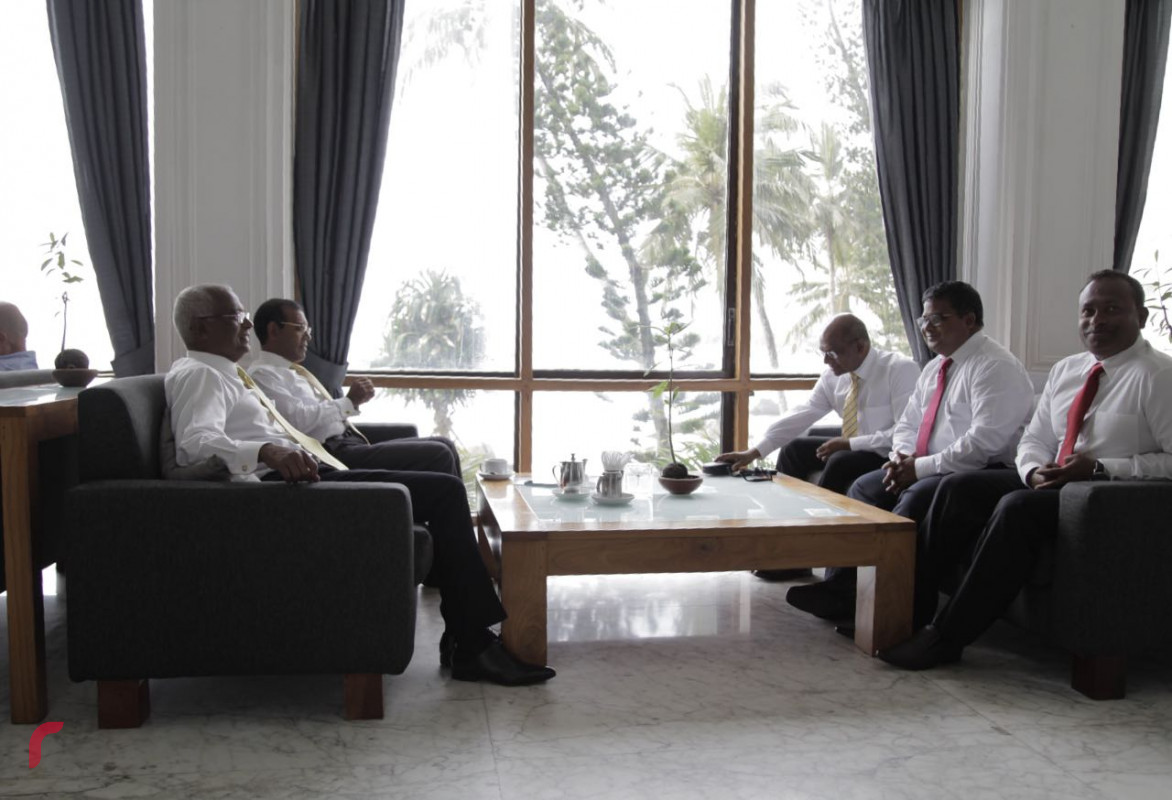 Solih is being accompanied by MDP Chairperson Hassan Latheef, MDP's Vice President Mohamed Shifaz, Jumhooree Party's Deputy Leader Dr. Hussain Rasheed, Adhaalath Party's Deputy Leader Ali Zahir, and Aminath Nadhira, who is a close associate of former President Maumoon Abdul Gayoom.
Solih and Nasheed began meeting with Maldivians in Sri Lanka on Monday afternoon at a public campaign event at Berjaya Hotel in Colombo.