The Maldivian government has announced the first two confirmed cases of novel coronavirus.
The announcement was made at a press conference held on Saturday night, with Health Minister Abdulla Ameen revealing that two staff members from Kuredu Island Resort have tested positive for the virus.
The two, foreigners, were tested after showing flu-like symptoms, and after a tourist that recently vacationed there informed authorities of having tested positive to Covid-19. Authorities declined to disclose the nationalities of those that tested positive for the virus.
Minister Ameen also revealed that the resort's alert level is currently at an "Orange" status while the rest of the country is at "Yellow"; "Orange" level is "human to human transmission directly linked to imported case (suspected or confirmed case) and "Yellow" level is "imported case with no local human to human transmission (suspected or confirmed)".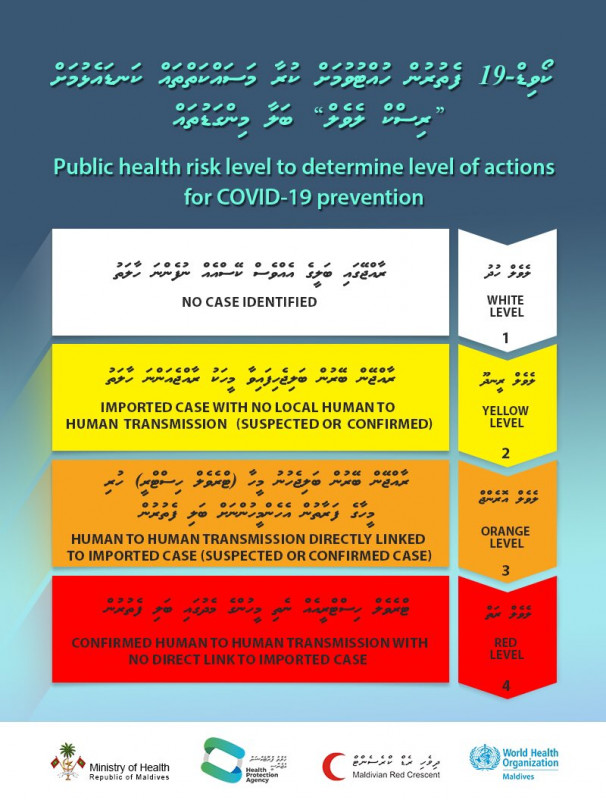 The island is currently on a lockdown with travel restrictions as authorities conduct "contact tracing".
Speaking at the press conference, Tourism Minister Ali Waheed stated that they are following the standard operating procedures established by the World Health Organization (WHO).
Further noting that an emergency cabinet meeting is scheduled for the night, Waheed reassured that the country is fully prepared for an outbreak.
Kuredu Island Resort is one of the three islands placed on temporary lockdown with travel restrictions since Friday, amid coronavirus fears. The restrictions on Thinadhoo island of Vaavu atoll were lifted earlier on Saturday, as the individual that showed symptoms tested negative for Covid-19.
Summer Island Resort was placed under temporary quarantine earlier this morning, as four are being tested from the island including two French nationals. Authorities revealed, at Saturday's press conference, that two are under isolation as they await test results.