'A curious half paradise, a half hell' is how a New York Times article described some of the events that transpired in our country this year. 2018 was difficult, not just for those of us living under its flag but for anyone with a stake here; our government was declared illegitimate, courts were declared corrupt, and parties on each side were declared fraudulent, and two Asian superpowers were embroiled in politics so sordid that the allure of island retreat that was once synonymous with our country, was no one near in association.
Presidential Race
At New Year's Eve in 2017, then President Abdulla Yameen gave a speech about the 'many obstacles' his administration has faced over the last four years. Yameen, during this speech, defended his use lawfare against dissent, claiming that it is his right to maintain the sanctity of his office 'by any means necessary' and declaring those who oppose a sitting president to be inherently unpatriotic, and undemocratic.
Even then, a controversy over how individuals appointed to offices in his government, with those given jobs at either his or his party's behest numbering at around 800, are required to spend on his bid for re-election. This caused neither shock nor major condemnation, as Yameen had already been known to use his position to appear to have more political capital than the results of the ballots showed.
On the other side of the political spectrum, members of the coalition, banded together by an agreement to work against Yameen's corruption and tyranny, were flocking behind one of their four leaders. RaajjeTV conducted in early January, pitting Jumhooree Party's Qasim Ibrahim, Maldivian Democratic Patry's Mohamed Nasheed, Adhaalath Party's Imran Abdulla, and former Maumoon Abdul Gayoom of the disputed Progressive Party of Maldives, of which one half was now loyal to Yameen.
Qasim won with 43 percent of the votes, Nasheed garnered 25 percent, Imran received 30 percent of the votes, Gayoom only received two percent. Coalition leaders took it to be a good sign, and Fayyaz Ismail, made Economic Minister in the current government, said that the results of the poll show that a candidate from the coalition would likely win if they contested.
The United Nations in January also endorsed Nasheed's possible candidacy, in blatant defiance of Yameen's refusal to accept a 'convict' to contest. Then Attorney General Mohamed Anil had even assured the nation that Nasheed would not be allowed to contest and that he would be arrested if he was to ever return.
The nation, for the most part, seemed divided. The Maldivian Democratic Party voted in a primary deemed unlawful, and the Elections Commission threatened to dissolve the party. The Jumhooree Party leader Qasim Ibrahim was awarded a ticket while Yameen's Progressive Party of Maldives did the same for him.
Among speculation that the coalition's inability to keep themselves united would cost them the elections, only a mere month before the vote, the coalition banded together behind the Maldivian Democratic Party's new candidate Ibrahim Mohamed Solih, to whom the party gave Nasheed's ticket after her relinquished after the government maintained its refusal to allow him to contest.
Now, with Solih in office and ministries divided amongst the coalition parties, they appear to be more united than ever. Jumhooree Party leader Qasim Ibrahim is parliament speaker and critics say he had single handedly allowed the last session to go into recess without vote on a number of bills put forth by the government. An extraordinary sitting has been scheduled after a meeting between coalition leaders.
Yameen, now the former president, conceded office before claiming the elections were rigged and then again conceded victory to Solih and the coalition. The Supreme Court had heard a case over the matter and voted against, after which he more and less avoided the public eye until the police began investigating a case against him.
The Progressive Party of Maldives, the members of which previously took pride in being ruthlessly efficient, is now disputed and Yameen has formed a new party in case he loses his bid for party leadership as the Supreme Court is yet to decide on the case.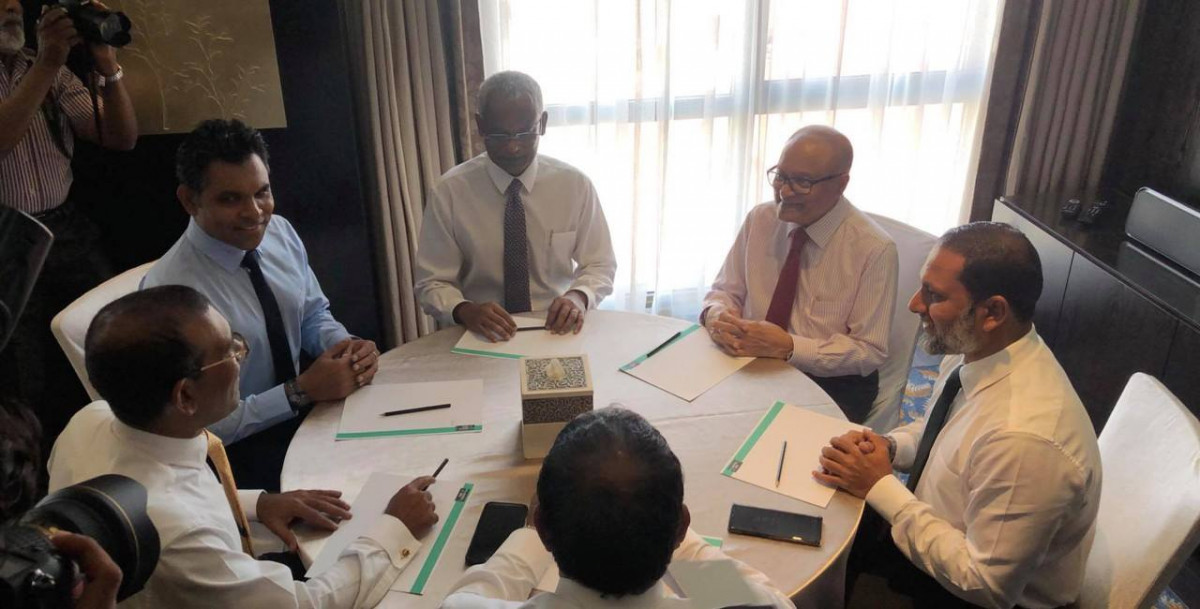 February crisis
What undoubtedly caused most international concern over the situation in Maldives was the 'political crisis' in February. The situation surrounding Yameen's prosecution of dissent and crackdown and reported influence on other branches of the state intensified after the government disobeyed a Supreme Court order to release nine political prisoners and reinstate 12 parliament members who were disqualified.
The state broadcaster first discredited the ruling by claiming that the Supreme Court website was hacked, this caused the justices to tweet a copy of the ruling which held signatures from the entire bench. A few hours later, they broadcast a conference where cabinet questioned the validity of the ruling, and told the nation that they would delay acting on it.
On February 5th, Yameen declared a 15-day state of emergency and suspended 20 constitutional rights, the entire criminal procedures act, and pars of the Judges Act. Former President Gayoom, a coalition leader, was arrested and officers of the police climbed atop the roof of the Supreme Court premises to enter the building and apprehend Chief Justice Abdulla Saeed and Justice Ali Hameed.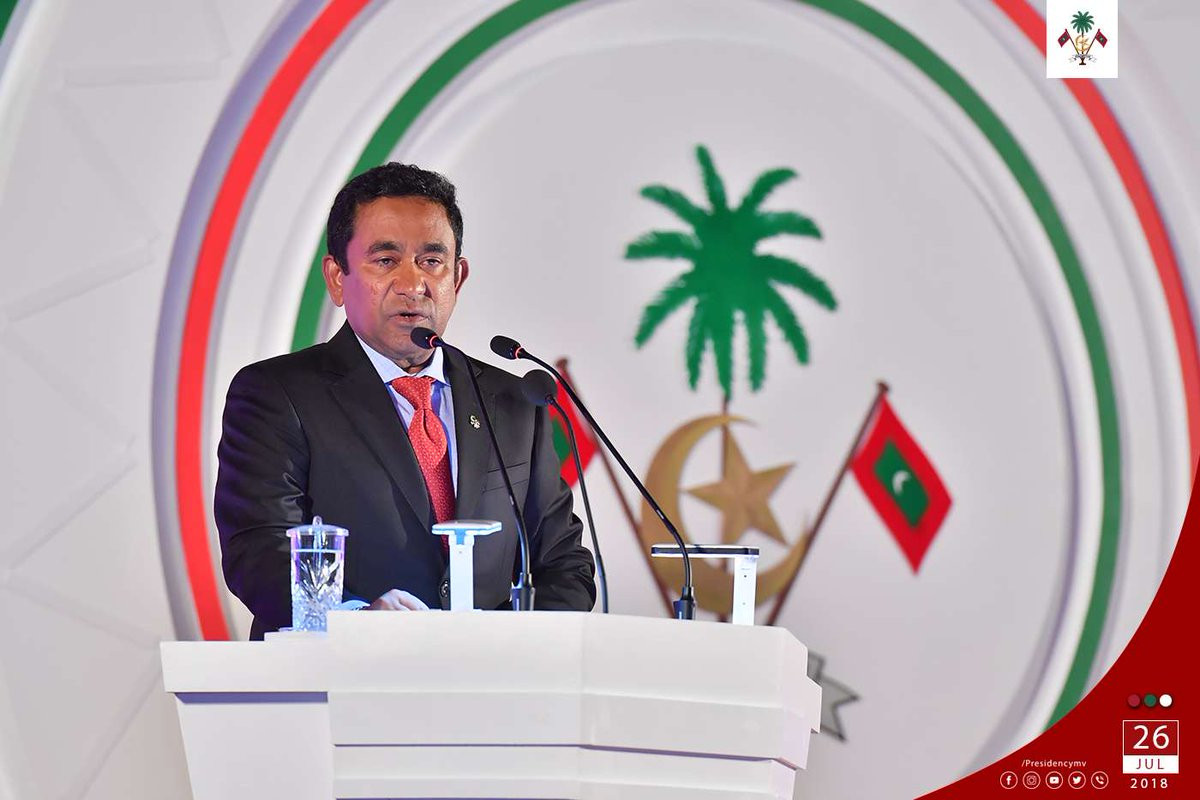 Now, all the prisoners have been released and several heads of state institutions previously dismissed, reportedly 'unlawfully', have been reinstated. President Solih, during his campaign, said that he would avoid such political strong-arming and instead opt to come to a peaceful resolution.
People's Majlis
For most of 2018, parliament sitting were held in the absence of lawmakers other than those loyal to President Yameen. After repeated failed attempts to oust Speaker Abdulla Maseeh, described as Yameen's 'rubber stamp' and less flatteringly 'puppet', opposition aligned members of the Majlis deemed the sitting unlawful and boycotted them. 12 lawmakers disqualified for supporting the motion and subsequently being unseated due to a recently passed Anti-Defection Law were also kept from participating.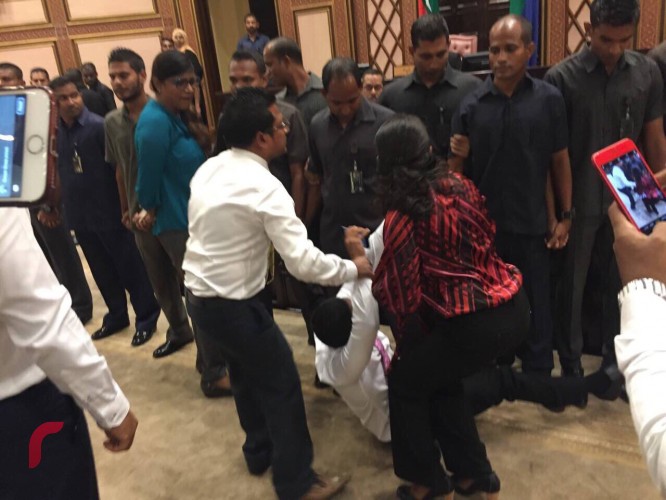 While they were unseated, the Elections Commission had failed to hold by-elections for their constituencies, leaving residents of regions they were voted in from without any parliamentary representation. MP Mohamed Ameeth had even threatened to take the commission to court over their failure to hold these by-elections.
Several bills continued to be passed, even ones which required half of the 85-member seat Majlis to be present. It was in such a manner that the Majlis had allowed Yameen to extend the 15-day state of emergency to 45 days.
Moreover, People's Majlis sittings were far and few in between. In contrast, after Solih's assumed office and Qasim was appointed speaker of parliament, several sittings were held and some of the most contentious bills passed by the previous administration were repealed; such as the anti-defection law, and the law criminalizing defamation.
The efficiency of the People's Majlis is to be admired, especially since they had failed to hold sittings for weeks but did everyday until going into recess in December. Maldives will go to the ballot box again in April to vote in new members to the People's Majlis.
Judiciary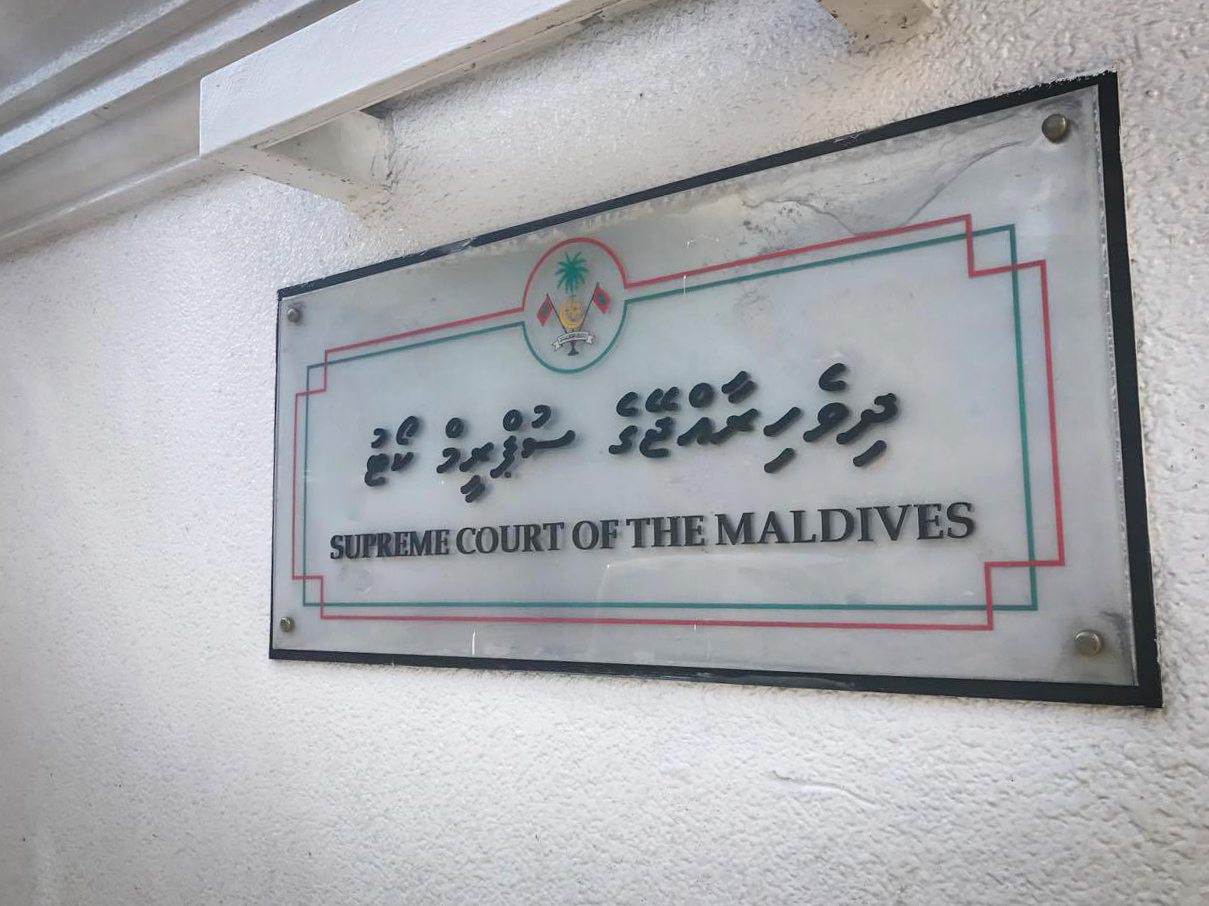 Governments come and go, but the courts must remain independent. While the situation for several members of the People's Majlis changed after election of a new government, this branch of state, should have ideally remained unchanged.
However, local courts showed a 'heel-faced-turn' after Yameen was removed from office. The Supreme Court, which refused to hear appeals of some of the 'political prisoners', were now freeing them; some were even freed after a single hearing.
The Supreme Court in an unprecedented move, also said this week that they are looking into allegations of Criminal Court judges being linked to local street gangs. With a history of holding lawyers and members of the public in contempt for small slights, this a big step in a new direction.
Foreign Relations
Critics claim that the Maldives has been trudging down the path of isolationism since they left the Commonwealth in 2016. However, 2018 marked new lows for its foreign relations as the governments of several countries called on Yameen to enforce the initial February 1st ruling and to lift the 45-day state of emergency.
However, Maldives within the last year has not slighted any country more than it did India. Maldives not only ostensibly forgot the 'India-first' policy its foreign services has upheld for generations but directly snubbed New Delhi, India's federal capital.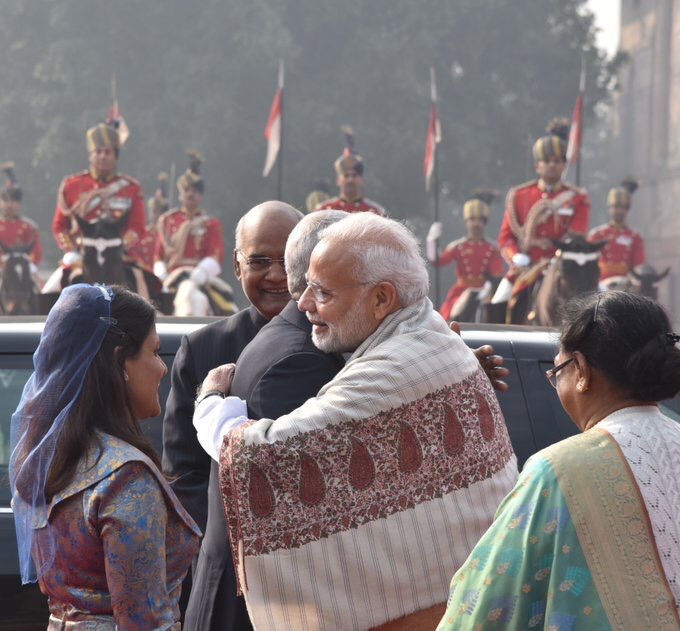 Amid concerns that India was 'worried' about growing Chinese influence in the Indian Ocean, Maldives continued its commitment to projects with China, amassing millions in debt in the process. Tokens of good-will such as a helicopter gifted in 2017 was also returned and his supporters depicted a warped view of India, as a nation that wants to subjugate Maldivians and control them.
President Solih's first state visit out of the country was to India, on 17th December. Officials of both countries have described the visit as a 'new beginning' for the age-old relations between India and the Maldives.
Freedoms
Human rights in the Maldives has been a contentious issue in the Maldives this past year, as police and the armed forces brutally cracked down on protestors calling for February's Supreme Court ruling to be enforced; police used pepper-spray and disproportionate force, indiscriminately against civilians and journalists.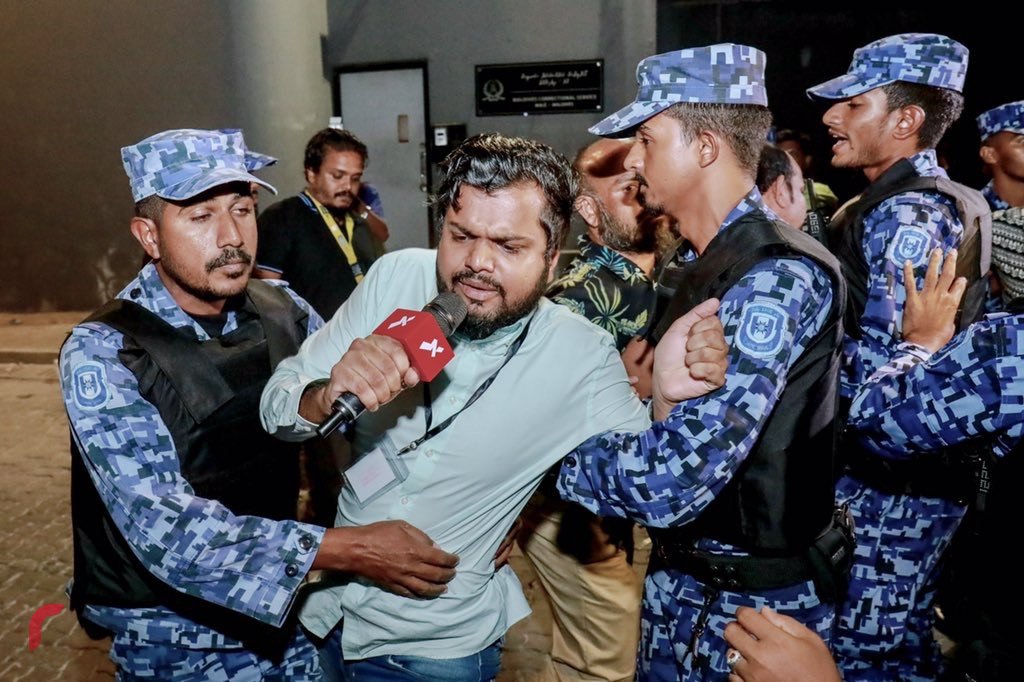 Maldives has consistently fallen in rank in Reporters Without Borders' press freedom index. Journalists continued to be threated this year. The military and the Maldives Broadcasting Commission threatened to take action against news organizations that 'spread confusing reports' about the situation in the Maldives.
While the Maldives Police Service previously ignored public concern over the actions of their officers, blatantly so, the newly appointed acting commissioner has promised to restore public trust in the institution. A neighbourhood watch program has now been introduced and the police are to allow a means for the public to share their experience about the conduct of officers.
The police have also taken active steps to ease the traffic congestion in capital city Malé and the Home Ministry is to esbtalish a 'Road Safety and Environment Police' unit. The ministry has also commissioned an inquiry into the state of state-run detention facilities, and an audit of prison.
While issues such as flooding in the Maldives has persisted since January, a National Disaster Management Authority has been established and the new government has pledged to take steps to resolve the issue.
Economy
President Yameen described himself as an 'economist'. To an extent he had stayed true to this throughout his tenure. Yameen's time in office saw unprecedented urban development, though at the price of rising national debt. Although by 2018, despite having changed the capital city's skyline entirely, and introduced an economic vision more tangible than any other president before him, he seemed to have lost his charm.
The extent of the debt is yet unknown and the current government says chunks of agreements made with China are missing. The debt is estimated to be over USD 1.5 billion, equivalent to the credit facility Solih acquired from India during his last visit.
While this may supplement next year's budget, which was considered so inadequete that it would not even allow the government to pay employees at their offices, the debt stands. President Solih has said that they in talks to reduce interest rates and to extend the deadline of repayment.